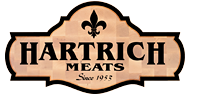 Our Logo says it all!  Hartrich Meats was started in 1953 by Harold Hartrich and his wife Lucie Hunzinger Hartrich (represented with "H" on each end) to provide meat for their grocery store and to offer custom processing to local farmers.  The fleur de lis symbol represents our village of Ste. Marie with its French heritage and the fact that the Hartrichs were some of the original settlers.  The butcher block background, which is on display in our retail store after seeing many years of use, represents all the years of hard work the Hartrich family and their employees have put into the business.
Hartrich Meats is a State of Illinois licensed facility, which Harold and Lucie's sons, Mark and Tony, took over operating in 1984.  Mark and Tony added a retail area, deer processing, catering and grill sales to the business and continue the high standards and professionalism set by their parents more than six decades ago.
The quality meat processing is continuing its family-owned and operated traditions as Mark and Tony's sons – Craig, Brian and Daniel – have joined the business to provide generations of experience and excellence in serving the community's meat needs.